A simulator made of a skin-touch material optimal for learning the self-examination skill.
Complete self-palpation and observation of the breasts and armpits are possible.
The true-to-life material makes the model ideal for learning and practicing the self-examination skill of the breasts.
In one breast, several hardened areas are implemented in regions liable to breast cancer. The other breast is made normal for comparison.
---
Practice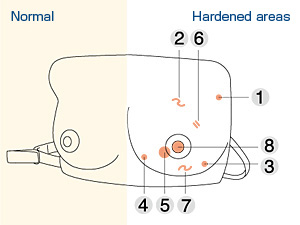 Practice of palpation for signs of breast cancer
One breast has hardened areas, and the other breast is made normal.
Signs of breast cancer
・・・・・・・・・・・・・・・・・・
Lymph nodes
・・・・・・・・・・・・・・・・・・
Hardening 1.5mm
・・・・・・・・・・・・・・・・・・
Hardening 2.0mm
・・・・・・・・・・・・・・・・・・
Discoloration or
depression of the skin
・・・・・・・・・・・・・・・・・・
Pig skin
(a state resembling orange peel)
・・・・・・・・・・・・・・・・・・
Collapsed nipple